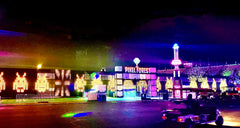 Our specialty is creating custom lights for large events like EDC Las Vegas. Here are some of the stages where our lights were used.
BASS POD
The lights used here were our addressable WS2811 10x23 neon with custom lengths. 
KINETIC FIELD
We used TM1814 addressable RGBW neon at the Kinetic Field stage. We also used a lot of IP68 waterproof WS2811 addressable strips with 60x40mm foam for the lines alone the edges.
PIXEL FOREST & LED TREES
We supplies all the pixel bullets used for Pixel Forest over the past few years along with the new 20FT LED trees added this year.
BEACON

Our PAR lights were used at the base of the beacon shining up. The addressable strips were used for the rights and a moving ball head at the top.
RAINBOW ROAD
We created custom 4.5w stringer bulbs for Rainbow Road. 

PIXEL BALL
We made custom 24ft pixel balls above used in the Rainbow Road.
ELECTRIC AVENUE
We used the addressable WS2811 neon strips 15x25 pictured above.

WALL WASHERS FOR THE CONCESSION 

We custom made 48" white wall washers to help illuminate the concession booths.
We can help you create custom lights for your show or event as well. Contact us at (626)698-9082